Livestream ecommerce is a business model where products and services are shown and sold via online video-livestreaming sessions. The hosts of these sessions can be retail sales representatives, celebrities, or influencers. Viewers can interact with the hosts by asking questions and getting immediate real-time answers.
According to WSJ, the revenue from US livestream shopping was $6 billion in 2020 and is predicted to grow to $57 billion by 2025. Big tech companies like Walmart and Target are exploring various ways to incorporate livestream sessions into their business models.
This article provides tips for deciding whether livestream sessions are the right for your business and for creating a successful livestream experience. They are based on our recent user-testing study of livestream ecommerce in China.
Are Livestreams Worth It for Your Business?
Theoretically, you can use livestreams to sell any products or services. However, livestreams are not always worth the cost involved in producing them.
When Livestreams Make Sense
Our study participants found the livestream sessions most helpful in the following circumstances:
Live demonstrations clarify important product features. For instance, a participant praised the livestream session for a facial cream because she could see the texture of the cream as the host applied the cream to her hand and showed it to the audience closely. Another participant liked a livestream session promoting tea since she could see what the drink would look like.
The products or services are highly personal and complicated and benefit from Q&As. For example, a participant appreciated the livestream sessions of home-improvement items on Pinduoduo (a Chinese ecommerce app), because the host answered his question about which floor drain he should use in his bathroom. But he didn't watch livestreams for home goods like kitchen towels on that app because those products didn't require extra explanations. Similarly, another participant enjoyed watching livestream sessions about wines because the host "used very accurate words to describe the flavor," and recommended different wines to each viewer based on their real-time comments.
Celebrities or influencers have a strong impact on the popularity of the products. For instance, fashion products like clothes and jewelry can benefit from livestream sessions in two ways. First, users can ask the model to try on clothes and mix and match various items advertised within the same livestream — a feature that is not available on a regular product page. Second, seeing celebrities use a product encourages customers to purchase the item (due to the halo effect). A young female participant who wasn't a big fan of livestream ecommerce said she had watched a few sessions hosted by the celebrities she followed on Douyin (the Chinese name of TikTok):
"I have followed a few celebrities living in foreign countries, like this one [Shaishai in Dubai]. I love their lifestyles and have watched many of their videos about the tourist spots they visited. When they host livestream sessions, I sometimes buy one or two things if they interest me, because I believe in their taste."
Products benefit from being showcased at different times of day or by different hosts. Livestream sessions may help users conduct preliminary research in a much cheaper way compared to visiting in person. One study participant was interested in buying a vacation home in Hainan province (about 1,400 miles away from Beijing, where he lived). He used livestream sessions a lot to browse different options; these sessions were virtual open-house events where the agent answered questions from investors all over China in real-time. He said,
"The livestream is good because it's available during the daytime and night. The same apartment can look different in the daytime and at night with all lights on. So, I may watch one apartment several times to get multiple perspectives."
Needless to say, it's much cheaper to research vacation homes in this way rather than traveling back and forth every time there is a new house available. The same participant also watched livestream sessions on used cars to know what was available before heading to the shop for a test drive.
When Livestreaming Is Ineffective
In contrast, when the products have the following attributes, users don't care about livestream sessions:
The products are cheap, ordinary, and easy to substitute. Watching livestream sessions requires extra cognitive resources and adds interaction cost, so users won't do it if it doesn't bring additional value. When shopping for everyday goods, if the product-detail pages are explanatory enough, people won't bother watching a livestream session. For instance, none of the participants in our study watched livestream sessions when they shopped for disinfecting wipes or cotton slippers, since they believed that those products were consumables and didn't want to spend extra time on livestream sessions.
However, the exceptions were flash sales: if the price dropped significantly during the livestream session, users may want to watch it even if it was focused on ordinary goods. A participant mentioned he had purchased a bath towel for 1 Yuan (about $0.14) on a livestream.Still, the attraction for flash sales may wane after a while. A young participant said she had been addicted to shopping deals on livestream sessions a lot for a while, but she found that she spent much more money at the end of the month, so she decided to quit it.
The audience knows little about your brand or products. When people are not so familiar with your business, they are unlikely to invest time to learn about your products. Videos require sequential access, meaning that users can't easily scan the information covered in a video. Those who encounter your livestream sessions accidentally, without awareness of your products, will likely lose patience and leave quickly, due to the relatively slow pace of the livestream. For instance, when a middle-aged participant browsed livestream sessions on Douyin, she entered a session hosted by a singer that she knew, but she had never heard of the snack brand he was promoting. Even though she was familiar with the host, she left the session quickly and said she wouldn't purchase the snacks unless "a friend tried them and said they're good.".
The products or services are very expensive, and people have high expectations. One task in our study was to watch livestream sessions for cars on Douyin; most of the participants said that they would watch such sessions if they wanted a used car, but not for a brand-new luxury one, like a BMW. For those cars, they said they would go to the dealer in person to enjoy exclusive, one-on-one service. (Similarly, Gucci, a luxury brand, provided one-on-one livestream sessions to mimic the highly personalized in-person shopping experience.)
Tips for Designing Effective Livestreams
#1: Choose the Right Platform for Your Livestreams
Not all platforms are created equal when it comes to livestreaming. Our Chinese study participants used livestreams on different platforms differently. On ecommerce apps and platforms, like Taobao and JD, users had a specific shopping goal and used livestreams to gather supplemental information about the product they were interested in. In contrast, on social media platforms like Douyin livestreams were a source of entertainment, and many resulting purchases were impulsive and unplanned.
Think about the core value that your livestream sessions bring to your users. If you want your sessions to be informative and detail-oriented, integrate them into ecommerce apps, to supplement your product pages. But if a large portion of your revenue comes from targeted ads on social media or if celebrities play an essential role in promoting your products, embedding livestreams in social-media platforms may be better.
No matter which platform you choose, understand your customers' existing mental models of different platforms. These mental models include their thoughts on what the platform is for and on whether livestreaming makes sense on that platform.
For instance, a few study participants did not consider watching livestreams on the short-video app Kuai because they believed that app was for seniors. Another participant loved livestream sessions on Douyin but not on ecommerce apps like JD. She said,
"I never watched livestream sessions on JD. I'm more goal-driven when I shop on this platform. I know they have a livestream feature, but I don't think it's relevant to me. I've been using this app this way [without watching livestreams] for a long time, and I don't relate JD and livestreaming."
In this case, this participant associated livestreams with short-video apps and used them to kill time. She didn't watch livestreams on JD, especially since JD provided a great live chat feature where her question on an air purifier got answered in 15 seconds; in that case, livestream didn't add value to her experience.
#2: Choose a Vibe that Matches Your Brand Image and Product Attributes
If you decide to start livestreaming, use a tone of voice that is consistent with your other channels. The livestream is part of your brand image, and it should not be too off from your main values, even if you twist it a little for your target audience.
For instance, a young participant liked the livestream session hosted by North Face on Taobao, because "the host was very friendly, professional, and interacted with the customers in a conversational manner." The host didn't push users to buy or promote other random brands in the same session. It matched the offline experience that the participant had before with that brand.
People also have different expectations when shopping for different types of products via livestreaming. A participant told us,
"When I purchase skincare and makeup products, [buying in a livestream session] is often cheaper or comes with more complimentary gifts. For clothes, I use [livestreams] to ask the host about sizing and see how [the product] looks on the model."
When all other skincare brands give complimentary gifts with purchases made during a livestream, users will be disappointed if you fail to provide one. Thus, check what your competitors are doing and make sure you meet users' expectations about what happens during a livestream for the products you're selling.
In our introductory article on livestream ecommerce, we noted that many livestream sellers use the scarcity strategy: they had only a limited number of products available during the livestream, making customers believe that they would lose the deal if they didn't place the order right away. Do not overuse this strategy, as it can annoy people in the long run. A female participant complained about Jiaqi Li (a famous streamer and influencer)'s session because she had tried to purchase some products in several different instances but was not able to due to the limited stock. She gave up watching his sessions. Another participant commented,
"Some livestream sessions are overwhelming and use all kinds of promotion tricks; I don't like them."
The key to successful livestream ecommerce is not pursuing the largest possible revenue for every single session, but establishing a solid brand image, maintaining and fostering a long-term relationship with the viewers, and later converting them into loyal customers.
#3: Be Professional to Increase Your Credibility
The host and the background of your livestreams represent your brand. View the host as your sales representative and their background as your store. People expect the host to answer real-time questions quickly and accurately. If the host fails to answer a question about product specs, or the background is too casual, customers may challenge your credibility.
For instance, a participant watched two tea-selling livestreams on Douyin. In the first session, the host positioned the camera on a pile of tea and explained its flavor. The participant thought it wasn't attractive enough. In the second session, she could see the host with some tea samples, pots, and a nice tea shop in the background. The session provided much more context — it showed the packaging and where the tea was from. As she said,
"I can see the package of the tea, which is good, because if I want to send it as a gift to someone, I won't just give them a pile of tea. For this one, I can see different packages, paper vs. can, for different purposes, like buying for myself vs. as a gift. Also, its background is a tea shop, and I feel it's quality-ensured and more hygienic."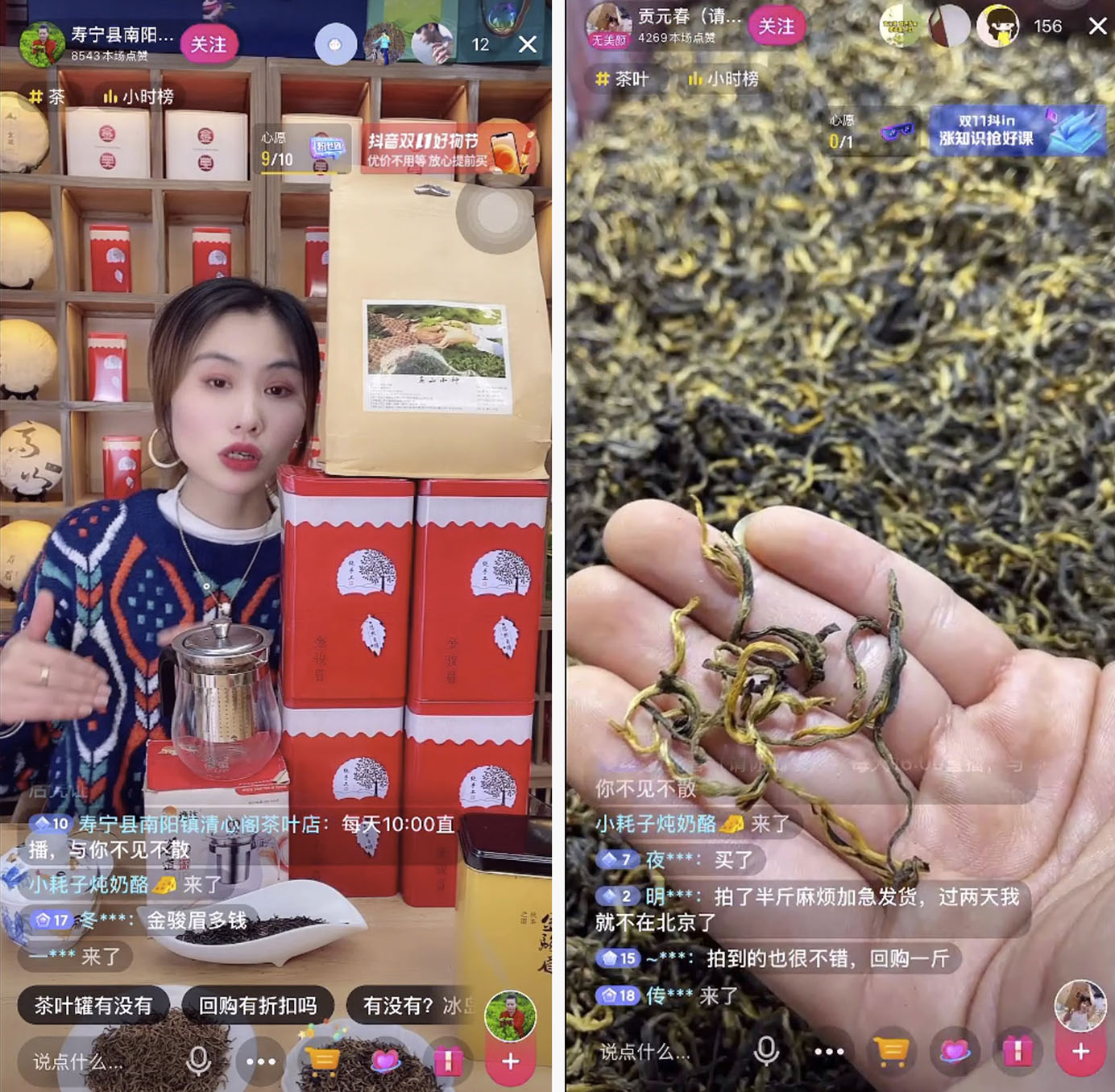 In this example, details like packaging and origin of the tea, as well as the tidy tea-shop background, increased the perceived credibility and helped answer some of the viewers' questions.
Often during livestream sessions, additional text snippets such as coupon codes, promotions, or payment information are superimposed on the video footage. These snippets address common questions and can save time for both the viewers and the host. For instance, a participant appreciated that the background of North Face Urban Exploration's livestream stated that free-interest installment payments were available.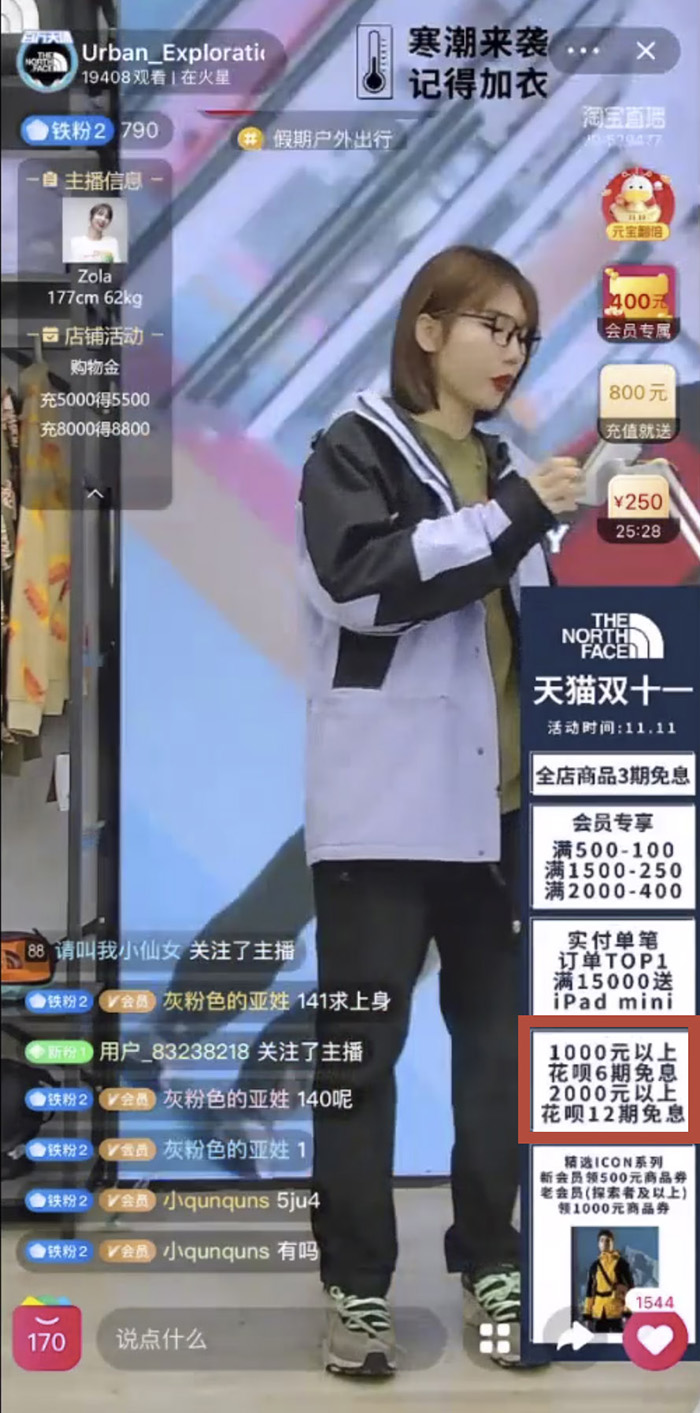 #4: Use Rewards to Increase User Engagement
Users watch livestream sessions if they bring an added value —- whether that value is a better deal, entertainment, or a sense of belonging.
You can use rewards to encourage users to watch your session. Consider the following techniques:
Offer session-exclusive deals and products. If your event is brand-specific, attract brand enthusiasts by offering secret deals and items starting at very low prices that customers could bid on. If the session sells products from multiple brands, scattering these deals across the whole session can attract bargain-hunters and encourage viewers to stay longer.
Organize lotteries and provide watchers with gifts. Several study participants mentioned that they had taken part in free lotteries associated with livestream selling sessions. To enter the lottery, users had to tap a button, type a slogan into the comment box, or share the session. A participant mentioned how pleased he was that he had won a free hat during a livestream session hosted by Caterpillar. (In our study, he also browsed Caterpillar's livestream session without prompt.)
Greet the participants and memorize returning customers. This approach works best when the livestream is hosted by an influencer or a celebrity. Humans are social animals: they can feel good simply because someone remembers them, especially someone they have followed for a long time.
Build a membership system with different loyalty levels. This approach can further foster long-term relationships with customers. For instance, on Taobao, one can level up their loyalty to a shop by watching the livestream sessions and placing orders in that shop. There are levels like New fans, Iron fans, and Diamond fans. Shops can give different types of coupons to fans at each level; the higher their level, the more discounts they can enjoy.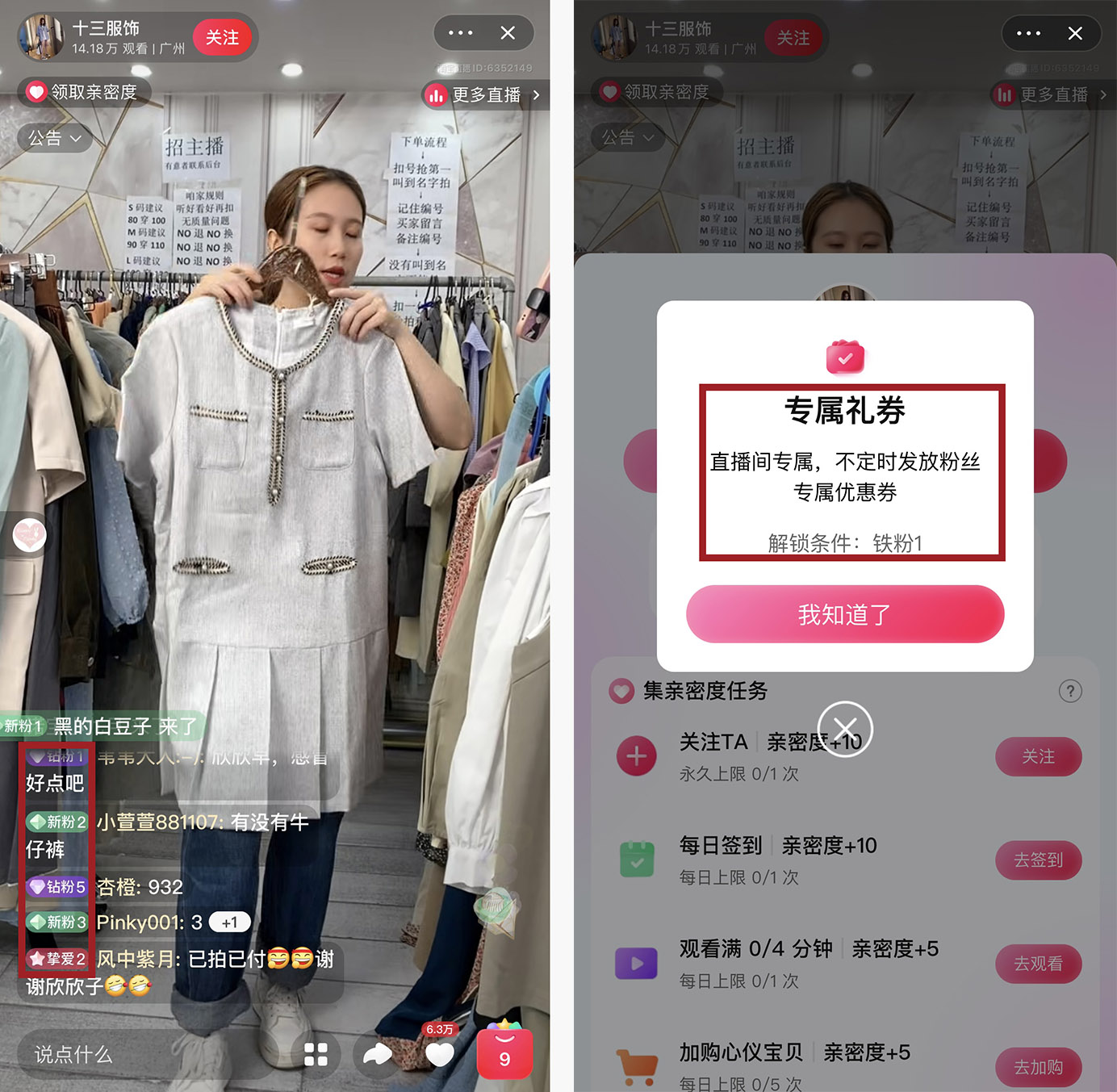 #5: Create a Smooth Shopping and Checkout Experience
No matter how professional or attractive your sessions are, they will fail if they can't convert viewers into customers. Our study participants still used traditional product-detail pages and referred to user reviews to finalize their purchase decisions, since they believed the user reviews were more "objective and authentic."
Thus, it's important that users can check the product-detail pages and place orders with one click from your livestream sessions. Chinese livestreams typically allow people to view the product-detail page and watch the livestream sessions in picture-in-picture mode, both on ecommerce apps and social-media platforms. People don't need to jump out of the current app and finish purchasing in another app. If that is not possible in your situation, give clear instructions on how to place orders from your livestream sessions and minimize the steps that people need to take. For instance, direct people to the detail page of the product they are interested in, not just to the homepage or to product-listing pages.
Like in any shopping experience, users expect immediate order confirmation messages after placing an order during a livestream session. In China, sending SMS notifications is an appropriate way to confirm the order, and it's the exact thing Douyin did when a study participant purchased a discounted restaurant voucher in a livestream session.
Depending on your users' expectations for confirmation messages, you may want to send a confirmation email instead. Ensure you send the email immediately after viewers place the order, especially if your livestream session is on social media. This is because it can be hard for a user to find an order placed on a social-media platforms. Instant confirmation messages can reassure users that their order got through.
#6: Allow Easy Access to Customer Support
Our study participants were concerned about customer support — especially when they purchased products in livestream sessions on social-media platforms. Compared to shopping in well-known ecommerce apps, customers felt insecure when shopping in livestream sessions on social media because they were not sure about the return policies or whether there was any customer support available after placing the order.
One study participant had a bad experience with a Douyin livestream sessions: he bought a bracelet, and the item he received looked very different from that in the livestream video. He tried to contact the host but never got any response. After that, he said he would shop only for cheap items on livestream sessions. Comparing Taobao (the biggest ecommerce platform in China) and Douyin, he was disappointed about the latter's lack of customer support.
"When I shop on Taobao, I know that I can always get in touch with Taobao's support team if the shop never responds to my refund request. My credit score is pretty high, so Taobao provides a money-back policy even before I ship back my returned product. But I never saw anyone from Douyin's support team. I don't know if it even exists."
In contrast, another participant, who was always able to return items successfully on Douyin, believed there was no difference between shopping on Douyin and Taobao.
Thus, providing easy access to customer support can increase customers' confidence in placing orders in your livestream sessions, especially if this format is new for your audiences. Follow these tips:
Clarify your return policy in the session. The host can state it verbally, or you can show as a text field superimposed on the video stream. In addition, clearly state the return policy on product-detail pages and link to those from the livestream.
Ensure that users can reach support after they placed an order. If you host a livestream session via social media, customers may reach out to your social-media account to seek support for an exchange or return.
#7: Promote Your Sessions Based on Your Users' Interests and Geographic Location
When you start livestreaming, you may want to advertise your sessions, especially if you don't have a large fan base. Tailor these initial sessions to a subgroup of your audience whose personal interests include the kinds of products you will sell. Promoting these sessions on social media will allow you to target people who match that profile.
In our China study, participants were willing to watch promoted livestreams, as long as those promoted sessions were highly curated to their personal interests. We observed that while participants browsed recommended videos (which would show a promotional video or livestream for every 3 or 4 organic videos) on Douyin, they occasionally clicked on these promotional content and sometimes even decided to follow the brands and influencers in those livestream sessions.
These social-media promotions were pretty effective because the recommendation algorithms were based on content those users had browsed a lot or recently searched for, and on their geographic locations. Because these promotions were highly curated to their interests, they didn't look like promotions at all. For instance, a participant followed a local mall's account on Douyin after watching part of its livestream session on skincare products. The session was targeted to her because she was living in that region and because her browsing history indicated that she was into skincare products. It was right to the point, and she liked it because "it's a well-known mall locally, so I trust them. And they even give more complimentary gifts if you place orders here compared to in-person visits." Promoting your sessions strategically like this can help you naturally gain new followers.
Conclusion
Livestream ecommerce may quickly become popular beyond Asia's boundaries. Decide wisely if it's right for you based on the features of your products or services. The platform to host your livestreams should correspond to your customers' profile and expectations. Establish a vibe that matches your brand image, invite knowledgeable hosts, set a professional background, and use occasional rewards to increase engagement. Most important, don't forget to create a smooth transition between the livestream session and the checkout flow, to convert viewers into customers.